3OR-01 ALBERTO GINASTERA: The Complete Music for Piano & Piano/Chamber Ensembles- 2CD set.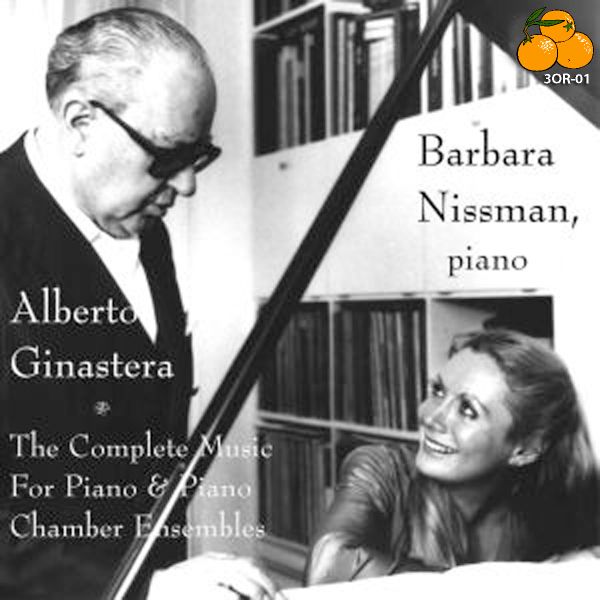 "a magnificent interpreter of my music, one of the best pianists in the world."                                    - Alberto Ginastera    

 
Chosen one of the best recordings of 1989 by both Gramophone and the American Record Guide.

"This is some of the most remarkable piano playing I have heard in many years."

"This disc shows off well her magnetic keyboard personality and electrifying, stunning technique: even in an age where high virtuosity is commonplace, Nissman's playing here is extraordinary."
Passion, joy, energy, strummings of the guitar. Fun music! It bypasses the brain, goes straight to the heart, and is felt in the pit of the stomach. 
It makes us feel alive! 
0:00/3:59

0:00/2:46

0:00/4:27

0:00/2:54

0:00/3:52

0:00/4:29

0:00/3:34

0:00/4:54

0:00/1:35

0:00/2:53

0:00/2:59

0:00/2:45

0:00/2:58

0:00/3:33

0:00/3:51

0:00/0:30

0:00/1:01

0:00/1:20

0:00/0:55

0:00/1:14
Ginastera: Complete Piano Works (2CDs)
Best seller! The complete solo piano works plus piano/chamber works, performed by Ginastera's favorite pianist with Aurora Nátola-Ginastera, Ruben Gonzalez and Laurentian String Quartet.
Read more…